April 12, 2016
Marketing Funnel Basics with Google Analytics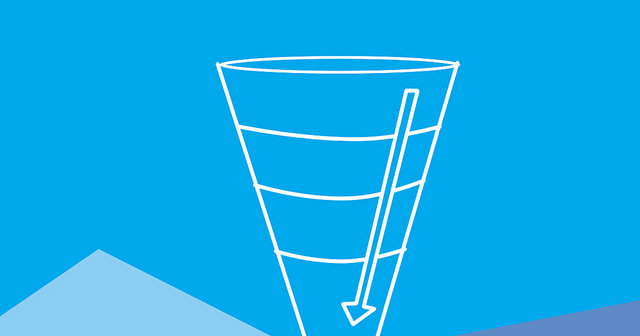 If you have an eCommerce site, you may spend a fair amount of time trying to figure out exactly how people are getting there—was it your print ad, an email blast or possibly a mention on social media? If you're using Google Analytics on your site, you might find that it's easier to gain clarity into your audience than you realized. Determining not only what caused people to come to the site but what actually made them click the 'Buy' button can keep marketers up at night; worried about how to increase their reach and grow their sales online before their competitor does.
One of the best ways to determine whether or not your marketing efforts are yielding fruit is by creating a marketing funnel through Google Analytics. While it's not a simple one-step process, it is relatively straightforward and lets you think through your marketing goals step by step; continually refining your approach to improve conversions. Funnels create a much deeper level of insight into your sales process than simply adding goals in Google Analytics; they show you exactly where people are hopping out of your process or taking a wrong turn before purchasing or signing up.
Before you can start building your marketing funnel, you'll need to get your link tags created across all referral platforms: email, social media, display ads, affiliates (if applicable) and paid search campaigns. This gives you deeper insight into where your traffic is coming from, and how you should treat potential customers once they reach your site.
Begin at the Beginning
Before you begin any type of funnel mapping project, you need to have a very clear idea of the path that you want your customers to take as they're moving towards a sale. While it might be nice to think that customers are going to engage with you on every platform possible (email, in person, web banners and social media), that probably isn't realistic. Instead, focus on a specific desired outcome—signing up for a whitepaper, for instance. See what it looks like when a customer comes into your site via email; what is their landing page, what steps do you want them to take, and then do the same for other points of entry. Right now, you're attempting to group like activities so they can be plotted into a funnel structure.
TOFU
No, not the food—TOFU stands for "Top of Funnel"; meaning the entry point for engagement in your marketing funnel.
Awareness Comes First
Before you're able to close that sale, first you have to build awareness of your brand and of your offer. This can come in a variety of different ways, but one of the least expensive is through social media and email marketing. These activities should be at the top of your sales funnel, as they signify the least-engaged audience that you still need to work to bring into the fold. It could also include ads on social media or search networks, but is in general a very high-level type of engagement. Applying Google tracking links to digital ads across different platforms lets you track which are most important in closing the sale.
Other activities that could be at the top of the funnel include customers who just happen upon your website accidentally, through organic search or referrals from other websites or via word-of-mouth.
MOFU
The middle of the funnel is when customers have made a decision to engage with you on a deeper level. They've been to your site a few times, like what they see, and are beginning to consider whether or not your product or offering is something they would be willing in invest time and effort in.
Engagement
Once customers have decided to engage with you, then you're able to draw them deeper into the funnel. This could include everything from sharing your social media content or actively promoting your brand via their personal platforms. This step of the funnel could include customers taking a specific (and trackable!) action such as signing up for a newsletter, clicking a specific portion of your page for more information, or simply taking a deep dive throughout the site for a period of time. Setting up your goals for this step really depends on your business, and what your ultimate desired outcome looks like. Goals can be quite different depending on whether or not you're an eCommerce platform or a business that is trying to generate a phone call, or even just a download or other type of request. What's important is that you're continuing to bring your customer along through the path, and that you can track and fix any particular step that seems to be tripping them up along the way.
BOFU
The bottom of the sales funnel is where the good stuff happens—you close a sale, you get a warm lead—your customer takes some serious step or steps towards purchase or indicates interest in having you contact them. Now that you have a good understanding of the different levels of your sales funnel, we're ready to create your first funnel and start tracking leads!
Setting Your First Goal
Before you can start defining your funnel, you first need a goal:
After logging into Google Analytics (GA), navigate to the Admin area for the profile you want to begin tracking

Click the Goals tab

Create a new goal by entering a name

Define the URL that you want to be part of the funnel

Choose 'Exact Match' as the Match Type

Entering a generic Goal Value allows GA to compute metrics such as Per Visit Goal Value
Once you have your first goal set, then you're ready to actually build a funnel:
Select the checkbox next to Use Funnel

Create names for each step of the funnel and enter the associated website URLs

Indicate that the first step is a Required Step by selecting the checkbox
That's it! You can take the final step to validate the goal based on how many times it would have converted over the last few days, but after that it is simply a waiting game—waiting for customers to enter your flytrap and get pulled into the goal funnel, and ultimately into your sales cycle.
Conversion
Whatever your conversion process looks like, Google Analytics can help you track it. However, perhaps the more interesting metric at this point is abandonment—what specifically within your process caused your customers to click away before completion? This required step of your sales funnel can be seen in the Funnel Visualization report, and it should be quite obvious what you will need to tweak in order to get your conversions where they need to be.
With all the different ways you can apply Google Analytics to your sales and marketing funnels, you'll likely find a great deal of trial and tweaking are involved before you can accurately refine a marketing funnel that works for your business. The best advice is to think high-level first, and then drill down into the specific steps that visitors can take—and tag everything.