GainInsights won the award for Regional Solution Provider Partner, South from Qlik Technologies at the Regional Partner Summit held in Bangalore.
The various partners were evaluated on a number of criteria including revenue, deal size, education, certification, land vs. expand, and target vs. achievement.
GainInsights proved itself on all the criteria. They were the top performing partner who exceeded their business plan target in first year of full fledged operation as a Solution Provider.
GainInsights was considered to have competent leadership and sales team not just in commercial but also technical aspects of QlikView business. They were instrumental in turning around marquee customers in Southern region.
GainInsights is committed and invested in QlikView, that being their exclusive focus. They plan to double their QlikView consultant base this year.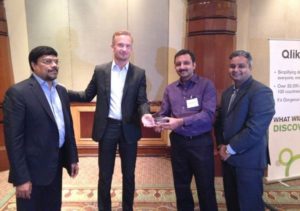 From Left to Right: Souma Das, Managing Director, Qlik Tech India, Remco Dam, Partner Global Director, Qlik Tech, Sudhakar Balakrishnan, Director, GainInsights Solutions, Madan Ramachandran, Head Partner Programs, Qlik Tech India.